Did Kroger beat Amazon to self-driving grocery deliveries?
Here's a peek into the future: Door-step deliveries facilitated by self-driving vehicles.
2 July 2018
We hear about autonomous cars every day and even see them in action on the streets, but can they do more than transport people?
According to Nuro, a Mountain View, California-based startup, the technology can help supermarkets deliver groceries to you sooner.
The company, who has just partnered with America's largest supermarket chain Kroger Co, will test the delivery of groceries via its unmanned road vehicles later this fall.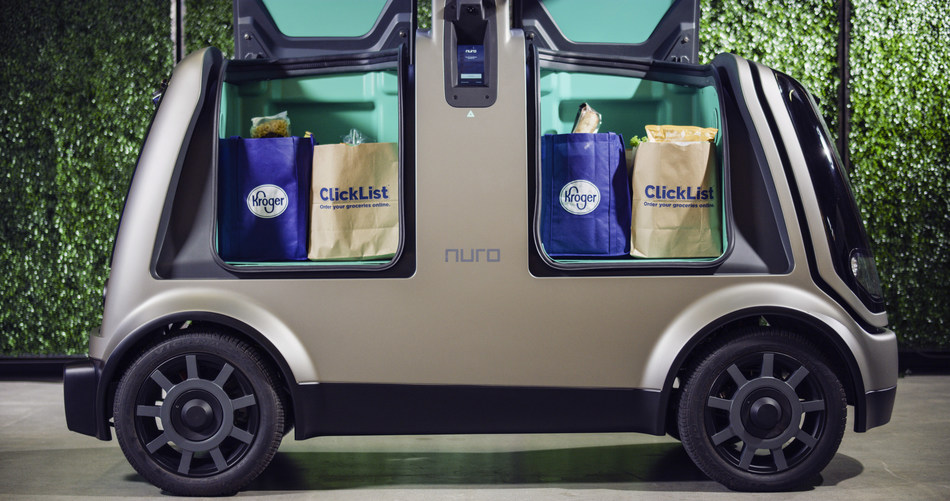 Through this innovative partnership, customers can place same-day delivery orders through Kroger's ClickList ordering system and Nuro's app. During the test, orders will be delivered by Nuro's fleet of autonomous vehicles.
Kroger's expansive retail footprint of 2,800 stores in 35 states combined with Nuro's technology platform will change the status quo of grocery delivery through convenience at a low price.
This allows customers to get what they need, when they need it, wherever they are.
"We are incredibly excited about the potential of our innovative partnership with Nuro to bring the future of grocery delivery to customers today. As part of Restock Kroger, we have already started to redefine the grocery customer experience and expand the coverage area for our anything, anytime and anywhere offering," said Kroger's Chief Digital Officer Yael Cosset.
"Partnering with Nuro will create customer value by providing Americans with access to fast and convenient delivery at a fair price," exclaimed Cosset.
Nuro was co-founded by Dave Ferguson and Jiajun Zhu, who most recently, were Principal Engineers at Google's self-driving car project (now Waymo).
The duo founded the company in 2016, and the self-driving vehicle is the company's first product. It's "designed for local goods transportation and is currently "privately held".
During the pilot, Nuro's vehicles will be unmanned but Kroger will "have the ability to monitor each vehicle."
However, Nuro has ambitions beyond just delivering groceries. Dave Fergusson, in a recent blogpost, outlined his vision for the company and the problem they are aiming to solve:
"We waste a lot of time running errands. Americans make a total of 400 billion vehicle trips a year. Of those, 45 percent are in the name of shopping and errands (to put this in perspective, commuting makes up only 15 percent of these trips).
"That's the equivalent of over 40 thousand lifetimes every year. Not all of these trips are considered chores — but many are.
"With the help of robotics, we can significantly improve people's day-to-day lives and transform local commerce. We can do better. Less time on errands, more time on life."