Programmatic ads: Can AT&T and Verizon overtake Google?
Verizon's deal with AOL and AT&T's recent acquisitions set them up for success, battling with Google and Facebook for online advertising
21 June 2018
AppNexus is an American multinational technology company whose cloud-based software platform enables and optimizes programmatic online advertising.
AT&T, another US-based leader in communications, media and entertainment, and technology, who recently acquired Time Warner for US$85 billion, is interested in purchasing AppNexus for US$2 billion.
The US-conglomerate aims to "build a truly modern media company that will create the best entertainment and communications experiences in the world," it revealed on its company website just after the deal with Time Warner was announced.
AT&T is making great strides
As things unfold, it seems like AT&T is preparing to go toe-to-toe with programmatic advertising networks like Google and Facebook, and from the scale of preparations, it seems the former will win big.
AT&T's site also said that through its "new advertising & analytics start-up company," it wants to create a new option for advertisers to find and reach desired audiences at scale in trusted, premium content environments.
"We have an opportunity to do for video advertising what others have done with digital advertising but give marketers greater transparency, brand-safety, and accountability for their advertising investment," it said.
So far, its advertising wing is restricted to ad-inventory from TV and broadcast media, however, with AppNexus in the bag, it could easily extend services to online media.
"Our advertising & analytics business provides marketers with advanced advertising solutions using valuable customer insights from AT&T's TV, mobile and broadband services, combined with extensive ad inventory from Turner's cable networks and AT&T's pay-TV services," explained AT&T.
A name for this company will be announced in the future, ideally when plans have crystallized and there's a better idea about the future capabilities and services it will offer.
According to Cheddar, AT&T might even hire AppNexus CEO Brian O'Kelly, a 20-year veteran of the ad-tech world, if it completes the acquisition, maybe as the CEO of the advertising & analytics business it is carving out so carefully.
AT&T competitor Verizon too is taking big strides in building a programmatic advertising business.
Verizon isn't far behind
Verizon spent US$9 billion acquiring AOL and Yahoo! in the recent past and tore down the walls between the businesses to create Oath.
Although relatively cheaper than AT&T's strategy, Verizon's plan packs quite a punch too. Its combined unit is run by ex-Googler and veteran ad-man Tim Armstrong and the business seems to be making a dent in the industry already.
According to an announcement last month, Oath's newsroom app, plus Yahoo! Finance, Sports, and Go will be pre-installed on the flagship Samsung smartphone series with advertisers able to reach said audiences via native ad units specifically designed for mobile viewership through its Yahoo! Gemini offering.
A look at existing competitors
According to eMarketer, Facebook and Google together will capture more than US$60 billion of digital advertising this year, or 57 percent of the total market.
"Advertisers are increasingly demanding more granularity in targeting capabilities to reach consumers," said Monica Peart, eMarketer's senior director of forecasting.
"Google and Facebook have positioned themselves at the front of this demand curve by being the ad publishers with some of the best-in-class targeting abilities in the digital ad market. With Facebook being able to provide targeting based upon consumer interests and Google capitalizing on where those consumers have been through searches, both companies ensure their lead among digital ad publishers."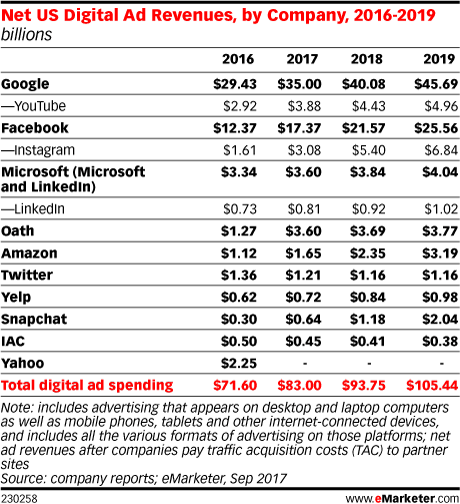 More competition for Google and Facebook
AT&T CEO Randall Stephenson and Verizon's CEO Lowell McAdam have been seeking to take on the giants and create a stronger number three or four player in the digital ad market, which is growing at nearly 20 percent per year.
Stephenson, on the other hand, told CNBC last week that his company was, "standing up a significant advertising platform," which would lead to, "some smaller M&A in the coming weeks."
After AOL's acquisition, McAdam said: "At Verizon, we've been strategically investing in emerging technology, including Verizon Digital Media Services and OTT, that taps into the market shift to digital content and advertising."
"This deal will add a mobile lens to everything we do inside of our content, video, and ads strategy. The combination of Verizon and AOL brings us to the scale of Facebook and Google," elaborated AOL's Mitch Waters, managing director at AOL Platforms ANZ.
While there's no certainty about the AppNexus acquisition as yet, the coming weeks will definitely be interesting for the digital advertising world.